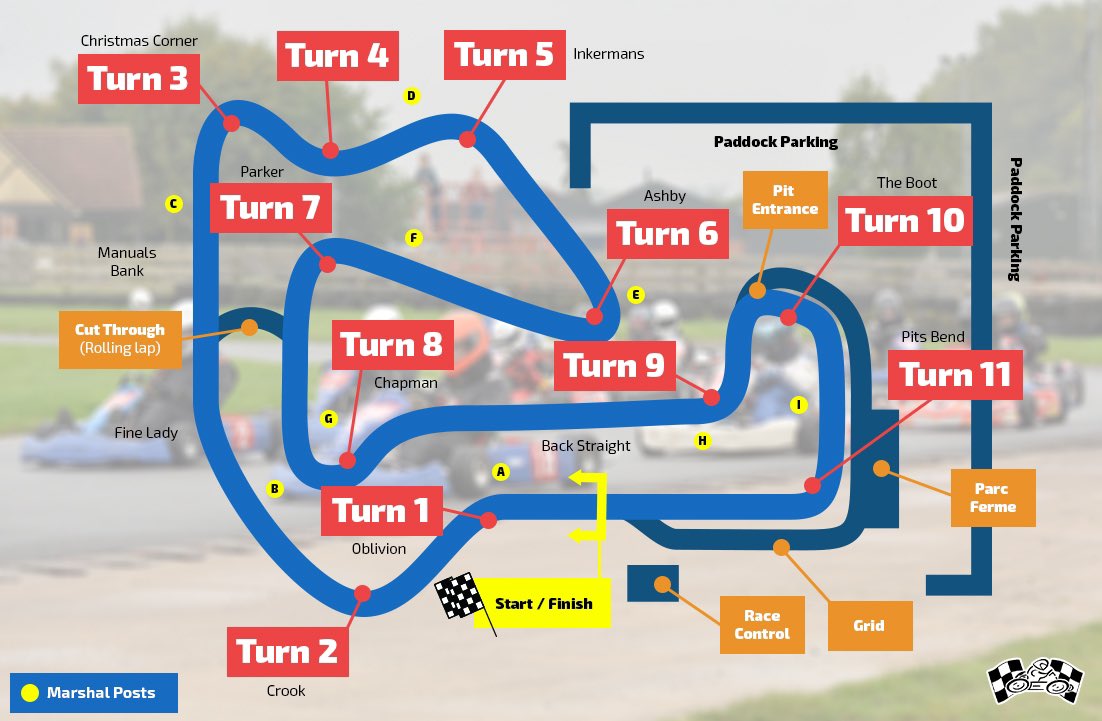 Going into this weekend I was hoping to beat the last round's result of 27th place of 42 drivers. The racing format would be the same as last round so for an explanation go to 'WMKC – Round 1 – My first MSUK race!' click here. I would be in heats 1, 2 and 3 from 4. It was meant to be quite sunny this weekend so track temps would be quite high with a lot of grip.
Friday and Saturday
Practice
On Friday there were about 20 minimax drivers so the track wasn't too busy. At the start of the day, I got a low 50-second lap but that quickly got lower. My quickest lap at the end of the day once we had dialled the kart in was a 47.7. However, that was only once and my next few best laps were 48 flats. On Saturday, the track temps were slightly cooler so I could only manage a 48 flat. Just as quick as Friday. Really quick times were just under 47 seconds, but I was quite a way from that currently.
Heat 1
https://results.alphatiming.co.uk/wmkc/2022
In the first heat, I started 32nd and was hoping to finish In the top 20. On the first lap, some drivers collided and spun. Plus I overtook a couple of others. It's become very evident that the 1st lap is key at the track. Stay out of trouble and you have half a chance. At the end of this lap, I was up in 19th place. On the second lap, a driver ran wide and onto the grass at Ashby (turn 6) and allowed me to get up into 18th place. By the end of the third lap I was up in 17th after a quick driver ahead of me had an engine issue. On the following lap, two quick drivers that had spun at the start of the race caught up to me and got past. I just couldn't compete on pace with some of the quicker drivers. I was now back in 19th place. This repeated until the final lap and I crossed the finish line in 22nd place. After penalties were accounted for I was classified in 20th place.
Sunday
Heat 2
https://results.alphatiming.co.uk/wmkc/2022/2/s/4336/
https://youtu.be/NIalOWzlC8Y?t=1942 (video minute 32:22)
In the second heat, I was starting 31st and was once again hoping for a top 20 finish. At the end of the first lap, after many drivers spun ahead of me and with some aggressive overtakes, I was up to 22nd. On the following lap, I managed 19th due to more spins ahead of me, and me keeping my nose clean. Up until lap 7, not much happened. I was about 6 tenths behind the driver ahead of me but the driver behind (another novice) was catching me.
On the final lap, the driver behind was right on my rear bumper so I was forced to defend. Going into Christmas corner I successfully defended, along with going into Ashby. There were only two more overtaking opportunities that I had to defend. Turn 8 and turn 9. He didn't go for the move in turn 8 so it was only down to turn 9, "the boot".
Going into that corner, however, there was a waved yellow flag, meaning NO overtaking until the next marshall post (which was over the start-finish line). Due to this, I didn't need to defend and I thought I had secured 19th place. This wasn't true though as going into turn 10, the driver behind drove over the grass to attempt to overtake me under yellow flags. Due to him being on the grass he spun into me, causing us both to have damage to our karts and me to get stuck on the kerb. I finished 29th! And there was no penalty assigned to the driver than ran me off. The kart was a mess. Steering in bits and the radiator was hanging off. Rebuild time.
Heat 3
https://results.alphatiming.co.uk/wmkc/2022/2/s/4337/
https://youtu.be/NIalOWzlC8Y?t=7271 (video minute 2:01:11)
In my final heat, I was starting in last place. The first time around for the start it was a false start as the pack wasn't close enough. This had happened on every minimax heat so far. The next time by, we were still not close enough so we went around again. This repeated two more times before we could go racing! Once we finally did, there was a crash at the exit of Crook, bringing out the battenberg flag (this is essentially a safety car, just behind the leader instead of another kart). We were under battenbergs for 3 laps taking our racing time down to less than 3 minutes. Not much time at all to gain any real places, and make up for the previous heat.
When we finally got racing, I was in 21st (due to others crashing out in front of me). On the following lap, I was able to get up into 18th place but by the end of the next lap, I was back down in 20th. Going onto the final lap, I was down in 21st but 20th place was just ahead. I tried the move into Christmas corner but I misjudged my braking point and went deep into the corner. I finished the lap down in 25th but after penalties were applied I was all the way down in 28th!
Overall, this race was pretty shambolic.
'B' Final
https://results.alphatiming.co.uk/wmkc/2022/2/s/4339/
https://youtu.be/NIalOWzlC8Y?t=18559 (video minute 5:09:19)
After finishing low down in two of my heats I couldn't avoid being in the 'B' final. Very disappointing but still chance to progress. For this race, I was starting 6th and had to finish in the top 4 to get into the 'A' final. On the opening lap, I held position but I could already tell that I had nowhere near enough tyre temp. Up until the third lap, I stayed in 6th but due to my lack of tyre temp, I was overtaken into Christmas corner. On lap 6, one of the other novices managed to squeeze past me into turn 7, putting me down to 8th. This was not going to plan at all. As lap 7 came around I knew that I really had to push in order to get anywhere near the 'A' final. So this is what I did. On the following lap I overtook the driver in front into turn 9 and was up in p7.
On the final lap, I was still in 7th place, which wouldn't be good enough. Luckily for me, 5th and 6th were right ahead which would place me in position to get 4th if someone ahead got a penalty. I could get past into Christmas or Ashby or Parker or Chapman. Now the only overtaking spot would be at turn 9. The two drivers ahead went really narrow into turn 9 which meant that if I positioned the kart right, I had a chance to get passed one of them if not both. Under braking, they both went deep, too busy fighting with each other, which tightened up turn 10 for them both. On turn in for turn 10 I got past, and up to 6th. As 5th had a bad run from defending, I could get on the power before them and could get alongside for the last corner. We turned in and I was ahead out of the corner and up into 5th place.
'B' Final Aftermath
Even though I was in 5th place, I was still in a good position if 4th got a 5-second front faring penalty. When I came into the pits and got out of the kart they didn't. I didn't qualify for the 'A' final. We walked back to the team awning and I began to take my suit off whilst my dad stripped and packed the kart away. Time passed and then we found out that the driver that finished 4th had been DSQ'd for being underweight! This meant that we WERE in the 'A' final and that we had to build the kart, get suited and get to the dummy grid in less than 3 minutes. The whole team helped. Engine, wheels, tyre pressures and very basic dry setup. Somehow we made it to the grid with literally seconds to spare, having to life the kart over the heads of the class next in line in the holding area. I didn't have my Alfano on so I had no idea of my lap times of engine temps. We also forgot the transponder which which also meant that Alpha results don't know what position I was in at the end of every lap so the positions are guestimates. The track itself has a manual backup system, so a least they know where I started (last) and finished.
'A' Final
https://results.alphatiming.co.uk/wmkc/2022/2/s/4340/
https://youtu.be/NIalOWzlC8Y?t=23277 (video minute 6:27:57)
For the 'A' final I was starting last after qualifying by the skin of my teeth. On the first start attempt, 4 people spun out of the last corner, making us have to go around again. By the second start, I had already gained 5 places due to others spinning off and out of the race. Through the 2nd lap, I overtook a few more drivers in a big pack and was up to about 22nd. By the 6th lap, I had gained a couple more places and was up into 20th place. I was about half a second behind a huge pace of about 10 karts. On lap 7 going into Ashby, I was now right on the back of the pack. There was a slow kart ahead which caused the whole train to slow down. All but one driver. Going into Parker, he went full speed into my rear left wheel, causing him to fly into the air and over the top of me. This damaged may kart, but I didn't receive a mechanical flag as the damage looked cosmetic. It really wasn't though.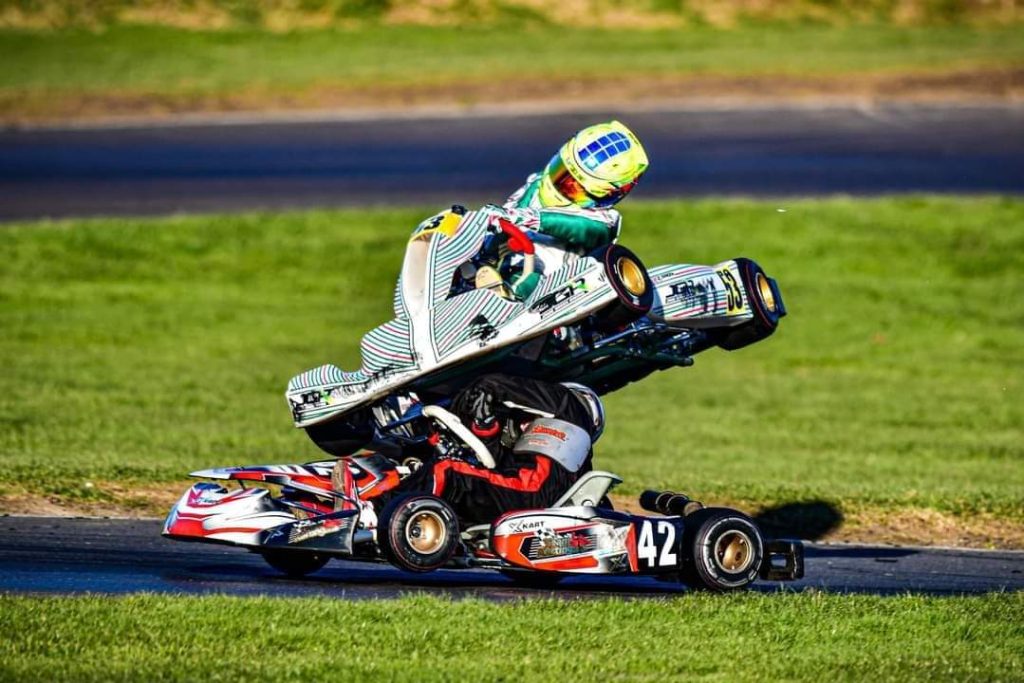 On the following lap the battenberg flags came out (obviously), this gave me an opportunity to pull up my nassau and evaluate the damage to the kart. It was obvious that there was some damage but I didn't know what exactly was damaged or how bad it was. We were under battenburgs until lap 11 and there were just 2 laps to go. In the two remaining laps, I didn't have great pace as my kart was literally in pieces (as we would find out later) but I managed to bring home 22nd overall and my first MSUK trophy (even though it was just a top novice trophy).
'A' Final Aftermath
When we brought the kart back to the van we discovered that I had bent both of my track rods, bent a steering column and ripped my steering wheel. Possibly worse of all, I snapped my steering boss meaning my steering wheel wasn't even connected to the chassis. In conclusion… it was a very, very expensive weekend.