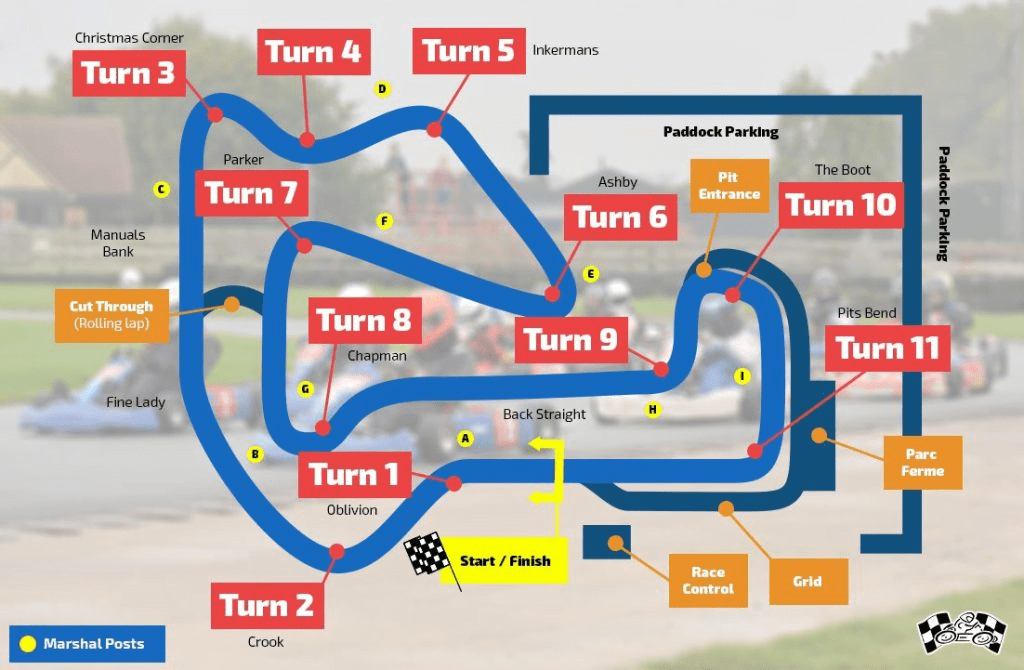 Going into this weekend we noticed that, in complete contrast to last round, a portion of the grid was British Champs drivers. Because of this, I knew that this weekend was going to be very difficult, so I was aiming to get a top 15 or maybe even a top 10. The grid was full, with 44 drivers, so there was going to be 4 heats, a B, and an A final. As you probably know by now, each driver takes part in 3 out of the 4 heats, the grids being randomly set. I was in heats 1,2 and 4 and was starting in 11th, 28th, and 11th again in that order.
Friday
For the first session, we put really old tires on, knowing I always lack pace on Friday. However, during the first session, we realized this weekend was different. I was right on pace, even while I was on 100-lap old tires. We left these tires on for the second session after making a change to the kart, and I was even quicker than before. Just to make sure the pace wasn't false, for the remaining sessions we put better, 20-lap old, tires on the kart.
For the rest of the day, I was one of, if not the fastest driver on track. This was even with a majority of the British drivers being there (probably not on their race engines though). My best lap time was a 46.1, which is quicker than the official lap record. My average lap time, however, was about a 46.5. We knew it was early days, but it was looking good for Sunday.
Saturday
During the night it rained quite a lot, meaning the track would be slow at the start but it would quickly speed up (or that's what we thought). In the first session, the fastest time in my group was a 47.1. My best lap time was a 47.5, which put me in 4th in my group. In the second session, my best lap time was a 47.3 which was only quick enough for 7th, with the fastest lap time being a 46.9. In the final practice of the day, we made some setup changes. This was to attempt to find some pace, as we had felt like I had hit a brick wall with my lap times. The setup changes didn't work, as I could still only manage a 47.4. This was good enough for 3rd, though, as I think the track slowed down a little.
Heat 1
https://results.alphatiming.co.uk/wmkc/2022/9/s/5185/
In the first heat, I was starting 11th. I was also on brand-new tires. I would normally scrub them but as I didn't I had to do it on the formation lap. On the formation lap, someone that was meant to start behind me started in front of me which made me start 13th on track.
Into turn 1, I immediately noticed that I had not scrubbed by tires anywhere near enough. Besides this, I still got back up into 11th by the end of the first lap. I did this by following the kart ahead through on an overtake into turn 8. I then overtook the next driver in front of me into the second part of the boot by sticking it on the inside and forcing them to back out. Over the next few laps, I was struggling to keep up as on some corners the kart wouldn't turn in as I hadn't scrubbed the front tires enough.
On lap 4, I finally began to catch up. By Ashby, I was right on the rear bumper and was close enough to make an overtake. This is exactly what I did so I was up into p10. I stayed in p10 until the closing stages of the race. Over these laps, I was slowly catching my teammate ahead. On the final lap, I was within overtaking distance. He defended into Christmas corner so I went to the outside to try to get the run on him into Ashby. Through 'New years' and Inkermans I set up the overtake perfectly. On the short straight into Ashby, I pulled alongside. However, I wasn't fully alongside so he swiped across my front end meaning I had to back out. I finished p10 on track but there was one penalty ahead so I was classified in p9.
Sunday
Heat 2
https://results.alphatiming.co.uk/wmkc/2022/9/s/5188/
https://youtu.be/2ake0mU1q2A?t=1954
For the second heat, I was starting 28th for my back start. I knew that I had the pace for the top 10, so that was where I wanted to finish. The start was really bad, everyone around me was out of the tram lines, this just set up what was to happen in turn 2. The bad start from the driver on pole made 2nd, 3rd, and 4th go 3 wide through turn 2. This bunched up the pack, causing multiple people to spin right in front of me. One of the drivers that spun rolled back into the inside of the track, where I was. This forced me into driving over the grass, which prevented me from crashing but it also got rid of all my tire temperature.
After this melee of carnage calmed down, there was about a 1-second gap to the kart in front and an even bigger gap to the kart behind. Luckily for me, the karts in front were battling so by the end of the lap the gap to 17th was 0.2 seconds. On the second lap, I was within overtaking distance to the kart in front so I sent it on the brakes into Christmas and got up into 17th. On the exit of Ashby, on the same lap, a kart in front got squeezed out, so much so, I managed to grab another position and get up into p16. Into turn 8, on lap 3, the driver got up into 14th, I followed them through so I was now up into 15th place.
Lap 4 was a repeat of the previous two laps, with two overtakes. The first one was handed to me after the kart in front ran wide out of turn 2. The second overtake was into turn 8 yet again. I just sent it up the inside and squeezed them out. They tried to get me back into The Boot but I carried the speed and stayed in 13th. I only got one overtake on the following lap. This was done by getting a really good run out of turn 2 and pulling alongside up the hill. I made the move final on the brakes into Christmas Corner. Over the next two laps, I made two more overtakes. These overtakes were both into turn 8, this was definitely my favorite place to overtake in this race.
I stayed in 10th right up until the final lap. Over these laps I was completely on my own, slowly catching the driver ahead. I couldn't catch up before the end of the race so on track I finished in p10. Luckily for me, 2 people ahead got 5-second drop-down penalty so I was classified in p8.
Heat 4
https://results.alphatiming.co.uk/wmkc/2022/9/s/5190/
https://youtu.be/2ake0mU1q2A?t=12542
After a long break between heats 2 and 4, I was ready to race. For my final heat I was starting in p11 again. Before the start loads of people went out of position, so I actually started in p16. I stayed in position through turns 1 and 2. Everyone went really defensive into Christmas Corner so I decided to go to the outside. This didn't gain me any places but it also didn't lose me any either. By the end of the first lap, I was still in p16. On the second lap, I managed to somewhat recover into 14th with two divebombs into Christmas Corner and Ashby. History repeated itself on lap 3, as a made another 2 overtakes in the same two corners.
I then had a small rest until on lap 5, the driver behind sent it up the inside at Ashby. They then squeezed me out which allowed two other drivers to get past. By the end of the lap, I was down in 15th. This was barely the start of what was to come. I held position until lap 8 when I got overtaken yet again.
I stayed in 16th until lap 10 when I tried to make an overtake into turn 8. On the exit, the driver ahead swiped across my front end. This caused my front bumper and his rear bumper to get caught on each other. We both got put on the grass and I fell al the way down to 24th. I couldn't bring it back any places so this is where I finished. One driver ahead got a penalty so I was classified in 23rd. This didn't make a big difference as it still harmed my final starting position.
A Final
https://results.alphatiming.co.uk/wmkc/2022/9/s/5192/
https://youtu.be/2ake0mU1q2A?t=28335
With a 9th, an 8th, and a 23rd I was starting 15th for the final. I knew that if I kept out of trouble at the start, and if I kept with the pack, I had a good chance at the top 10. On lap 1 I fell down to 18th after being overtaken through turn 8. Not the best start but I knew that I could still get it back. On lap 2, I made one place back on the brakes into Christmas Corner. I stayed in 17th all the way to lap 8. I felt like I just didn't have the pace to keep up with the pack. My lack of pace was obviously showing as on this lap, I got overtaken by two drivers and fell down to p19.
On lap 10, into Christmas Corner, the driver behind used me as a brake. This fired me off the track and knocked my rear right tire off of the rim. When I got back on the track I was all the way down in 30th so my hopes of a top 10 were truly over. Up until the final lap, I had to crawl home, getting up into 27th with multiple easy overtakes as I was fighting with slower drivers. I finished 27th on track but I was classified as 25th. This was a very disappointing end to such a good weekend but I now know that I have the pace to be fighting at the front in the remaining rounds of WMKC.