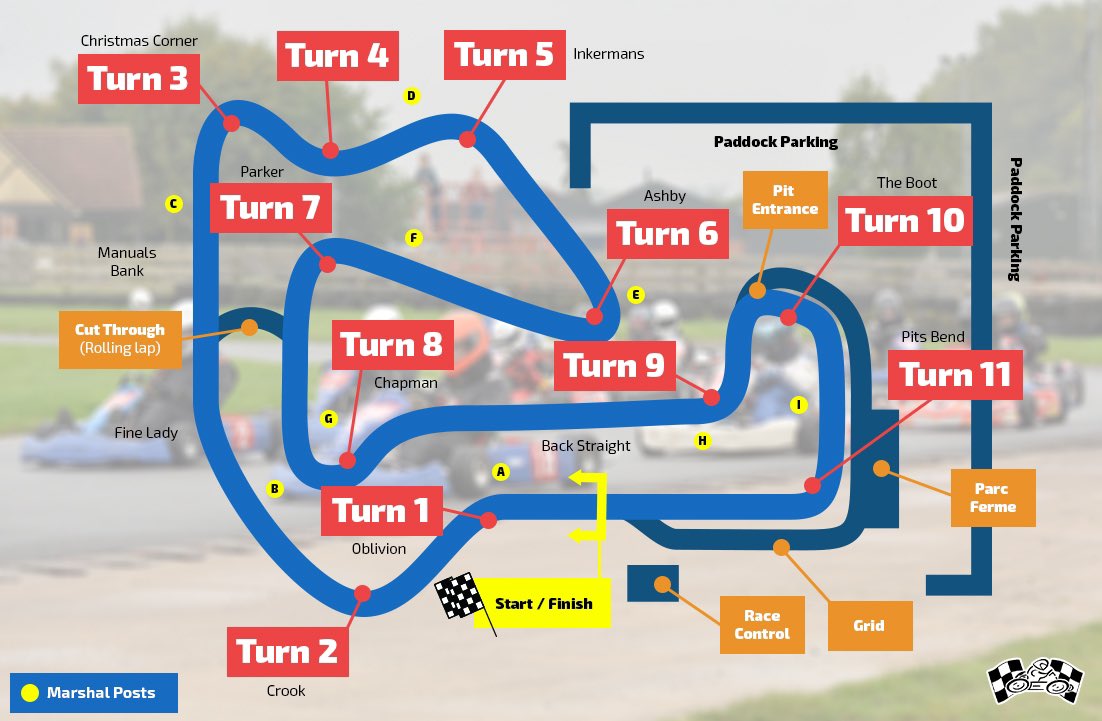 As you would know if you read my Wombwell blog, I have a new chassis. You would also know that the 2022 XKart chassis is a lot better than the 2021 chassis. Due to this, I had very high hopes for this weekend. I knew that if I drove well, I could easily be in the top 10. Similar to round 4, there were less than 34 drivers signed on in minimax this weekend so there were only to be three heats and one final instead of there being 4 heats and 2 finals.
Friday
Practice
On Friday I had really good pace, even in the first session. The track was quite greasy so there wasn't a lot of grip but I was right on pace with three frequent front-runners. Throughout the day I was getting quicker and quicker until the last session where I was the fastest driver on track, even though I was lapping on my own. By the end of the day, my best lap was a 47.08, which was my new PB. My old PB was set when the lap record was set so the track was a lot better then than it was this weekend.
Saturday
Practice
In the first session, I was 8th quickest with a 47.12. This lap time was 0.340 seconds off the quickest but just 0.10 seconds of 3rd place. This was a good start to the day as it showed that my Friday pace carried over to Saturday. In the second session, I was way down in 19th, over 7 tenths off the quickest. We had swapped the tires and rims which took away grip and made me slower. In session three, I was in p8 again. We had kept the same rims but swapped back to the first set of tires. This time I was 0.28 seconds off the quickest with a 47.45. The track had slowed down after a light drizzle mid-session.
Heat 1
https://results.alphatiming.co.uk/wmkc/2022/6/s/4945/
In the first heat, I was starting p8 for my front-of-grid start. Into turn 1, three drivers were 3 wide in front of me, making me have to lift off to not rear-end one of them and get a drop-down. This ruined my run up the hill so I lost 2 places by the exit of Christmas corner. At turn 6 on the same lap, I got sent down the inside even though I defended the position. They ran wide but I didn't get a good enough exit to get the switch back. Two corners later, at the turn 6 of Chapman, my teammate stuck it up the inside into the braking point as I didn't defend enough.
By the end of the first lap, I was down to p12. Not a great start but I knew that I had the pace to come back. I held position on lap 2 but on lap 3 I forced a move on the driver ahead into Ashbys. I did this by stamping on the brakes and just making the corner, making sure to squeeze them out so they couldn't get the switch back. On lap 4, the driver in 10 ran really wide out of turn 2. This harmed their run up the hill, making it easy for me to drag past them into the braking zone of turn 3.
I stayed in p10 until the end of lap 5 when the driver in 5th spun at the boot. This moved me up into p9. I was in p9 until the very last lap of the race when I noticed that the driver behind was rapidly catching me up. This forced me to over-defend which cost me the exit out of turn 8, allowing them to overtake me. I crossed the line in 10th place. Luckily for me, however, they got a drop-down penalty, moving me back up into p9.
Sunday
Heat 2
https://results.alphatiming.co.uk/wmkc/2022/6/s/4948/
https://youtu.be/wtBCGfasDmM?t=1409
In the second heat, I was starting in 22nd for my back-of-grid start. On the out-lap loads of drivers spun, meaning there was a false start. On the second formation lap, another few drivers spun. This happened two more times until the race was just started anyway. After the many re-starts, I was already up into p14. I gained 8 places before the race even started! Through turn 2 I couldn't get to the inside, meaning I got overtaken by two drivers up the hill into turn 3. Into Ashbys later on in the lap, I sent it up the inside of a frequent front-runner. Into turn 8, I sent it on the breaks and moved back up into p14.
On lap 2, I made a small mistake in Christmas corner, as I just missed my breaking point. This allowed 3 drivers to come past so I was back down to p17. On lap 3, someone was squeezed wide out of Chapman allowing me to get a better run down the short straight and to get past on the breaks into the book. During lap 4, I easily overtook a slower driver that started quite high up. Crazy to think that just in round 4 that would have been me!
I stayed in 15th place until the penultimate lap where two karts collided through the boot. One of them I overtook straight away. However, the other got back onto the track after being on the grass and managed to carry on. Because they had grass on their tires, I got past them out of Christmas corner on the next lap. Later on in the final lap, I pressured the kart ahead into defending into the boot. This gave me the run to send it past them on the breaks, making sure to take the corner extra wide to stop the re-overtake. I finished p12 on track but p10 after penalties.
Heat 3
https://results.alphatiming.co.uk/wmkc/2022/6/s/4949/
https://youtu.be/wtBCGfasDmM?t=9111
In the third and final heat, I was starting 15th place. There had been a long red flag break just before we were about to go out so I was out of focus. On the first lap, I made a bunch of mistakes, meaning I was down to p18 by the end of the lap. I stayed in 18th until lap 3 where I got overtaken by my teammate. This I got divebombed by another driver at turn 8.
I stayed in 20th until lap 8 where I got a really bad exit out of turn 1, allowing the driver behind to fly past up the hill. On track, I finished 21st but after penalties, I was classified as 25th. I didn't even know where or when I got the drop-down. A very bad heat would worsen my final starting place.
Final
https://results.alphatiming.co.uk/wmkc/2022/6/s/4952/
https://youtu.be/wtBCGfasDmM?t=21210
For the final, I was starting in p15. Before Ashbys I neither gained nor lost places, however, on the exit two drivers ahead of me collided. One of them went off onto the grass which was my only place gained on the first lap. On lap 2, I got squeezed really wide out of Ashbys, losing me 4 places in one corner. By the end of the lap, I had gone from 14th to 18th. I stayed in 18th until lap 4 where the 4th place runner got fired off at turn 8. He moved all the way down to 24th so I was up into 17th. During the next lap, the driver in 15th had a big lockup into turn 3, this send him wide and down to 21st. This meant that I was now up in 16th place.
I stayed in 16th until lap 7. This was when I got a really good exit out of Ashbys and tried to go to the outside. As I realized that this wouldn't work, I got early on the brakes and switched them back on the exit. At the end of the lap, I was up into p15. Back to where I started. On lap 12, I went for a move into turn 1 on the kart in front. This didn't work but it did ruin their run up the hill. This allowed me to get a better exit and to get past before the braking point.
I stayed in 14th until I crossed the line on the final lap. On the in-lap, I got brake-checked going up the hill, this gave me a drop-down penalty which demoted me down to 20th place. I don't understand why someone would try to give the driver behind a penalty. I was quite disappointed but there was nothing that I could do about it.
Thoughts
Even though the final didn't go to plan, I am really happy with how the weekend went overall. I had really good one-lap pace that wasn't far off the leaders, but it didn't go my way. As I said in the Wombwell blog, this new chassis is so much better. And hoping for bigger and better results very soon.