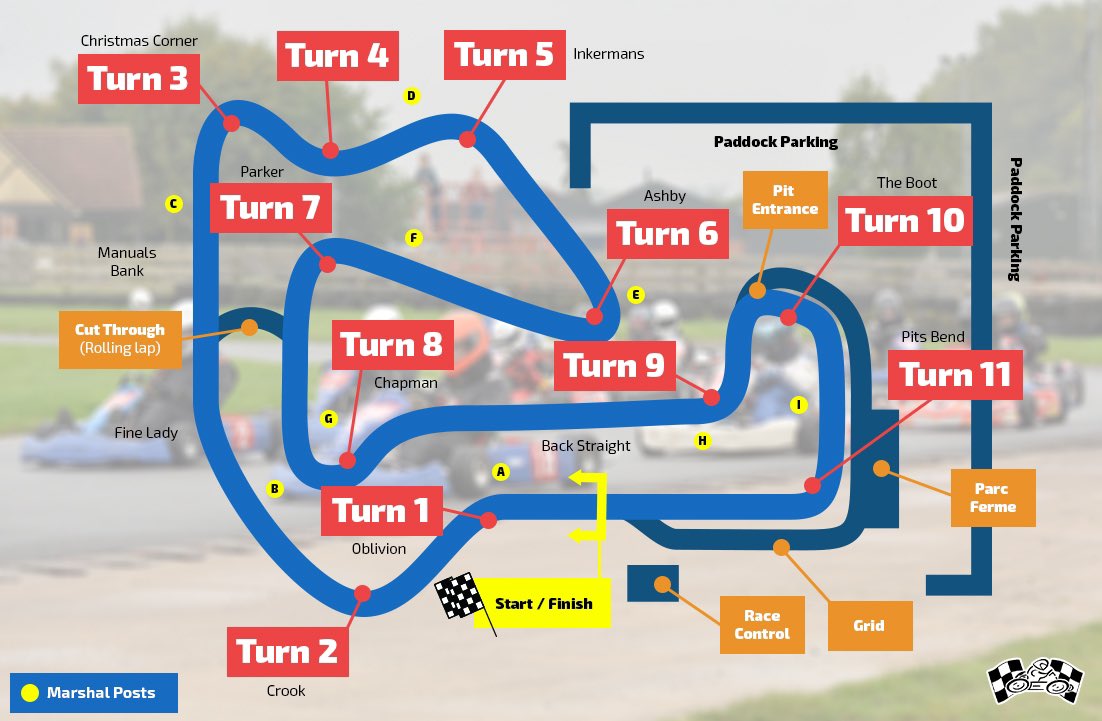 With only 28 drivers signed on in minimax this weekend, there were only to be three heats and one final instead of there being 4 heats and 2 finals. This also meant that I was aiming to get a higher final finishing position than my PB of 12th place, especially considering this was my first round off novice plates. Everyone was also on a new compound and brand of tire as the supply for mojos was running very low.
Friday and Saturday
Practice
On Friday I was having to learn these new tires (along with everyone else). The biggest difference for me was getting them up to temps at the start of the session. The sidewall of this compound was very hard, so the lack of side bite was making it difficult to heat them up. Once I learned to turn them on a bit better, however, they didn't feel much different to drive and I luckily didn't have to change my driving style. As the day came to a close I was only about 7 tenths off of my teammate (who was fighting for a win last round).
On Saturday it was just more learning in the three practice sessions. In the first session, we used my standard half-mag rims and in the second session, we used my low-volume half-mag rims (which are meant to turn on faster) to determine which I prefer and should use in the first heat. I preferred the low-volume rims so that is what I used in the final practice session and the first heat.
Heat 1
For the first heat, I was starting 5th and was hoping to at least finish in the top 8 if I could get passed the slower drivers and stick to the back of the quicker ones. It wasn't meant to be, however, as on the out lap my engine chugged to a stop and didn't restart. My front-of-pack finish was over before it even started. After sitting out and watching the race we took my kart back to the awning and found that there was a kink in the fuel line, starving the engine of fuel.
Sunday
Heat 2
https://youtu.be/Lm8YHWUCPRA?t=3856 (video minute 1:04:15)
In the second heat, I was starting 21st for my back-of-grid start. By the end of the first lap, I was up in p18 after a pile-up of a few karts in turns 1 & 2. On lap 2, I divebombed the kart in front into turn 6 (Ashby) and got up into 17th place. In the following lap, I overtook a novice into turn 8 which moved me up into 16th place by the end of the lap. On lap 4, the driver in 15th had a big movent through the apex to turn 2, slowing them down, and allowing me to breeze past up the main straight. I was in front by the breaking point of Christmas corner. For the remainder of the race, I slowly pulled the gap to the kart behind by 1.5 seconds. I finished the race in p15 after post-race penalties.
Heat 3
https://youtu.be/Lm8YHWUCPRA?t=10519 (video minute 2:55:20)
In the third heat, I was starting 9th for my middle-of-pack start and was hoping to at least hold position. At the first braking point on the first lap, I couldn't get to the inside for the corner. This then meant that quite a few drivers went passed and by the end of the lap I was all the way down in p14.
I held position with a gap of 4 tenths to the next kart and a 2 tenths gap to the kart behind until lap 7. This is when I made a small mistake in Christmas corner, misjudging my braking point and running a little wide through the apex. Due to this, I got a bad run down to Ashby which allowed the driver behind to pull alongside and get past at the braking zone. I finished the race in 15th with a 2-tenth gap to the kart in front and over a 4-second gap to the kart behind. There were no post-race penalties that affected my position so I got another 15th.
Final
https://youtu.be/Lm8YHWUCPRA?t=18746 (video minute 5:12:30)
With two 15ths and a DNS, I had the points to qualify in 18th place so I was hoping to finish in the top 15. This time I managed to get to the inside for the first braking point so I didn't lose any places. During the second lap, there was a crash in turn 7 between two drivers that were ahead of me. This gifted me p16 and I was now right on the back of the kart in front of me. On lap three, I got a really good run out of turn 2 and managed to breeze past the kart in front like they were standing still. I was ahead by the breaking point of turn 3. After this overtake I managed to pull a gap of a second but as my tires began to overheat, this gap quickly began to get eroded.
With 2 minutes plus one lap to go (3 laps), the gap was down to 6 and a half tenths. With 2 laps to go the gap was all the way down to just over a tenth of a second and I was under pressure. Going up the hill into turn 3 on the final lap, I went defensive to prevent them from getting past. And it worked this time. Going into turn 5 I went defensive again. This made me have a bad exit and gave the kart behind an opportunity to pull past. Into turn 6 I was now on the attack and was still alongside but on the outside. I tapped my brake early, turned in late, and switch backed them so that I had the inside line for turn 7. I was now back in p15. Then I defended into the boot and came out the final corner still in p15. There were yet again no penalties so I finished in 15th.