https://results.alphatiming.co.uk/wmkc/2022/1/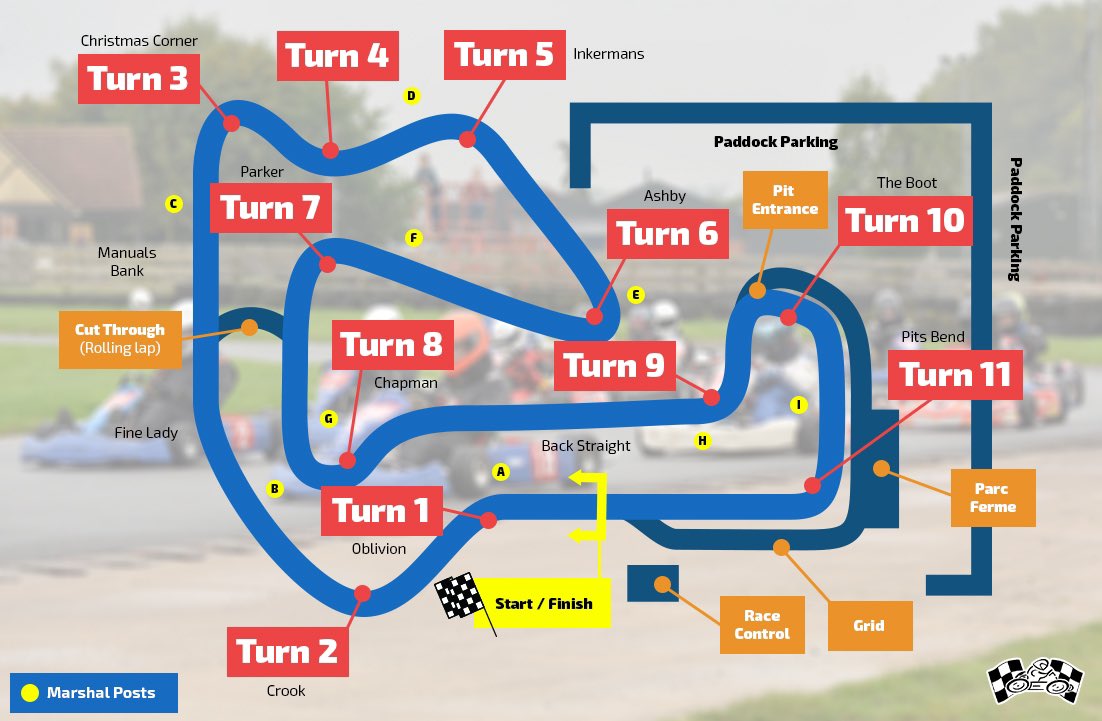 Going into this weekend we knew that it would be very difficult. It would be my first MSUK race so the grids would be a lot more competitive and aggressive than I am used to. We were only aiming to not finish last, however, it went a lot better than we expected. It was meant to be quite cold all weekend, but dry. I would be in the x-kart factory team for this championship so I would have my own mechanic and a data analysis guy instead of my dad.
Finally, the racing format would be slightly different to what I am used to as there were 42 drivers in my class. There would be no qualifying with 4 heats and 2 finals. Each driver would take part in 3 of the 4 heats, the grids are random. You would have a front of grid start, middle of grid start and a back of grid start. I was taking part in heats 1, 3 and 4. I am a novice so I start at the back for every race.
Friday and Saturday
Practice
Not many drivers were driving on Friday so I could get a lot of track time. I started off reasonably strong for my first session in this kart at this circuit with a mid 52 second lap time. However, in the second session, I went a full second quicker. By the next session, after looking at my telemetry and video footage, I found another 8 tenths so my best time was down to a high 50 second lap time. After session 4 I got my time down to low 50s. By the 5th session, my PB was a 50 flat. I couldn't go any quicker in the 6th and final session so this was my best lap. On old tyres, this was a fairly decent start.

On Saturday there would be only 3 practice sessions followed by the first heat. So if I wanted to go quicker I would have to learn fast. The first session was just a shakedown so I wasn't very quick. On the second session, I matched my previous best time from the day before. In the final practice session of the day, I broke into the 49s with a 49.87 second lap time. I was quite happy with this but knew that I still had some time to find.
Heat 1
https://results.alphatiming.co.uk/wmkc/2022/1/s/4278/
In my first heat I was starting 29th so was hoping to gain a few places early on. And keep out of any trouble. Clean driving was my aim.
At the start, there were a few spinners in front of me. This allowed me to come out of turn 1 in 21st. Already a few places ahead of where I started. Going into christmas corner (the hairpin at the end of the first straight) I managed to get down the inside of a couple of drivers, putting me into 19th place. Coming down the hill, into Ashby (the hairpin after christmas corner), another two drivers were backwards I was now into 16th place and was doing a lot better than we were expecting. On the second lap, however, the quicker drivers that had been spun at the start were coming back through and I lost a place into christmas corner. On the next lap, I overtook a driver that made a mistake in turns 1 and 2 but they re-overtook me on the following lap.
After penalties, I finished in 18th but was very happy with this result as it was my first MSUK race and I gained 11 places! Overall, these races are a lot more tiring to the mind as there is a lot going on in a race.
Sunday
Heat 3
https://results.alphatiming.co.uk/wmkc/2022/1/s/4280/
https://youtu.be/sgZp2TQxMG8?t=8340 (video minute 2:19:00)
I wasn't taking part in the second heat so my first race on Sunday was the third heat. In this race, I was starting in 26th place again. Into turn 1 no drivers spun but yet again into Christmas I managed to overtake a couple of drivers. Later on in the lap, two drivers collided and I managed to get past them both and up into 20th place. Going into the boot (the last 4 corners) I got up the inside of the driver in front of me and up into 19th place.
On lap 2, I held position but on the following lap, three drivers ahead of me spun so I overtook them both and got up into 17th place. On lap 4 I got overtaken but yet another driver spun ahead of me so I was still in 17th. Over the remaining 5 laps, the drivers that spun were slowly re-overtaking me. I finished 21st but was classified in 20th due to penalties.
I knew that I had to defend harder in the next races as some drivers just overtook me really easily.
Heat 4
https://results.alphatiming.co.uk/wmkc/2022/1/s/4281/
https://youtu.be/sgZp2TQxMG8?t=12813 (video minute 3:33:33)
In this heat, I was starting 31st on the grid. Although a few didnt show up for some reason, so i started further up the field). At the first corner, I didn't manage to get past anyone but through christmas corner someone spun ahead of me, collecting 2 other drivers. This put me into 19th place.
On lap 2, the race leader ran wide off of the track, coming back on one place behind me. Someone else also broke down on this lap, retiring from the race. I was now up into 17th place. I stayed in 17th until lap 4, when the previous race leader re-overtook me, putting me down to 18th. On lap 5 someone that also spun earlier on in the race was coming back through and got past me into christmas corner. On lap 6, a driver that was a couple of places ahead of me ran wide, allowing me and 5 other drivers to get past.
I finished 18th, so in my heats, I got an 18th, a 20th and an 18th. I just hoped that that was good enough to automatically qualify for the 'A' final without having to take part in a 7 driver shootout (the 'B' final) for the final 4 places in it.
'A' Final
https://results.alphatiming.co.uk/wmkc/2022/1/s/4283/
https://youtu.be/sgZp2TQxMG8?t=22136 (video minute 6:08:56)
I did! I managed to qualify straight into the 'A' final. It may sound like nothing but as we were only hoping to not finish last, for me it was as big of an accomplishment as winning a race. I was starting 26th overall and 3rd out of the novices.
In turn 1, I stayed on the outside gaining me one place. The three drivers that started 2nd, 3rd and 6th also spun which put me up into 16th (due to other drivers not starting). However, into christmas corner, I got squeezed out and fell back own to 18th place. I stayed in 18th till lap 3 when two of the drivers that spun in turn 1 re-overtook me. On the following lap, I was second in a 9 kart train. As the driver behind me tried to go past at the Chapman corner, they tagged me on the rear, half spinning me and causing me to lose 7 places. I was now in 27th. On lap 6, one of the leaders DNF'd, putting me back up into 26th (where I started).
I stayed here until lap 11, patiently waiting for an overtaking opportunity to come up. Going into christmas corner, I got alongside and after stomping on the brakes, got up into 25th. During this overtake the kart in 24th pulled away. But by the final lap (lap 13), I was right on his tail. I couldn't get past into oblivion (turn 1). I couldn't get past into christmas corner (turn 3, one of the big overtaking spots). Still couldn't get past into ashby (turn 6, another one of the overtaking spots). And I couldn't get past into chapman (turn 8). There was only one real overtaking spot left. Turn 9, the heel of the boot. Sadly, I couldn't get close enough.
After penalties were applied I finished 27th. I was still quite happy with this result as I knew that I had well exceeded my expectations for my first MSUK race at Whilton Mill for the WMKC.