This would be my first race in my new minimax so wasn't expecting to be fighting for a podium. It was forecast to be very wet on both days so I would need to learn quickly. We would also be on the same grid as juniors so there would be a total of 21 karts on track. There would be qualifying, two heats and a final.
Practice Day
At the start of practice day I was about 5th quickest out of 10, however, I was still quite far off the quickest drivers. Midway through the day, we put different tyres on as the ones that we had were the wrong compound. These tyres were drastically different so I slowed down quite a lot. By the final session, I was back onto the pace that I was on before and was about 7th quickest.
Race Day
Qualifying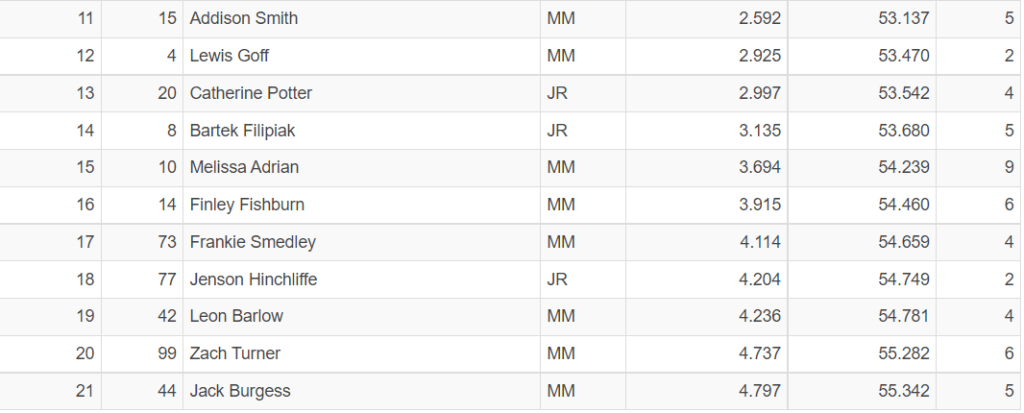 Coming out of the pits I was behind a driver that had similar pace to me on practice day. On my first lap, i managed a 55.283. This would be the 5th quickest first lap. On my second lap I got stuck behind another driver so could only manage a 55.816. My third lap was a 54.781 but would be my quickest lap as I couldn't find any more time. I would qualify 19th overall, but 8th in class. I was quite disappointed but I knew that I had enough pace to gain a couple of places.
Heat 1

Off the start, I got a really good run and managed to go around the outside of two drivers and to put myself into 6th in class. I stayed in 6th place until lap 7. The driver behind my had slowly been catching me up over the last few laps and by this lap, they were right on my tail. Going into the 3rd hairpin they managed to go down my inside which put me down to 7th. On the next lap, I was still right behind her but couldn't make the move stick. On the 9th lap, I got a good run onto the main straight and managed to get past and back into 6th place. By the end of the 12th lap, I had pulled a gap of over half a second.
Heat 2

For the second heat, I was starting in 6th place and was hoping to gain at least one more position. Before the start, the kart that was supposed to be starting alongside me swapped lanes which lost me a place before the race even started. Now starting 7th, I wanted to finish in 6th place or better. Over the first half of the race, the driver ahead started to pull away from me but in the last 3 laps, I began to slowly catch up with them. 0.3 seconds at a time. Unfortunately, I only managed to get the gap down to 1.2 seconds. Luckily for me, the driver ahead got a five-second nose cone penalty which put me back into 6th place.
Final

For the final, I was starting in 6th place and was aiming for at least 5th. Off the line, I stayed in position, but in the second hairpin, two drivers ahead of me spun and put me into 4th. The driver ahead of me had a bit more pace so when a driver that would normally be fighting for the lead caught up, I didn't defend so that I could try to keep up with them which would help me catch up to the driver in 3rd place. This worked as by the 11th lap 3rd, 4th, myself and 6th were all in a train.
On the last lap, the driver in 4th went to overtake the driver in 3rd. He then got bogged down out of the corner so I tried to overtake him. I then also got bogged down so the driver behind me overtook us both. I fell down to 6th and this is where I finished.
Considering it was my first race in my new minimax, I was very happy with the result. Hoping to improve even more next time.