Finally, Karting Is Back! And I'm better than ever. After months of waiting, I can finally race once again.
Sunday was great but first, we need to go back to Monday when I went to Hooton to see if I had forgotten how to drive or if it was just my tyres as I was slow at other tracks and we didn't know why.
Luckily, it was just my tyres (which is what we expected). In the first session of the day, I managed a 44.98, (which was very slow considering my best lap from last year was a 42.50 and it was hot enough so I should be beating my time). I came into the pits and was a bit disappointed so we took of them tyres and put on a new set that we had gotten from Fusion Motorsport.
As soon as I went out I got a 42.30, beating my all-time best. I was so relieved that I hadn't forgotten to drive. It also helped that Charlie Wyatt (https://www.instagram.com/wyattearp23/ ) had given me a lightweight metal bumper to replace my plastic one, making my rear end slightly stiffer. Later on in the day, I managed to get a 41.98, destroying my previous Personal Best.
Race Day
Qualifying
https://results.alphatiming.co.uk/hootonik/2020/3/s/5354/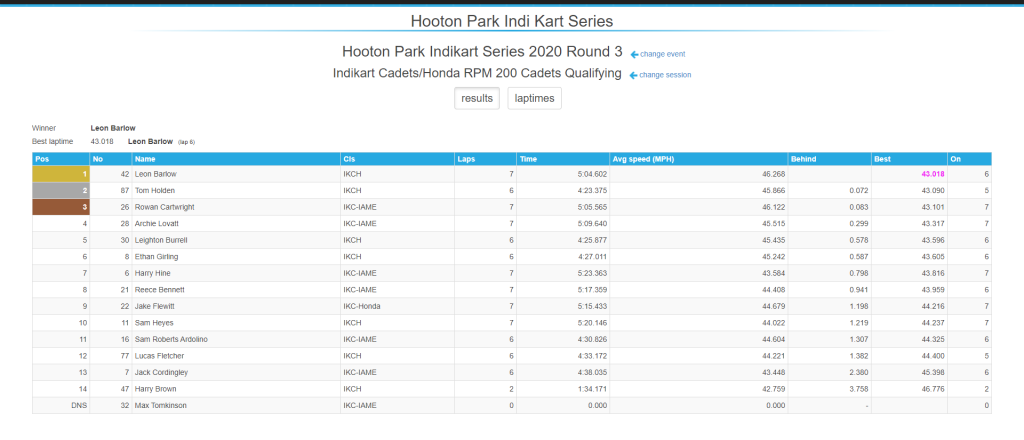 In Qualifying, I was doing better than ever. On my first flying lap, on a cold track, I got a 44.83 but could go quicker. I then got a high 43 a low 43, finally a 43.00 which was my quickest. I had pole alongside my teammate with my other two behind. The order was Me, Tom Holden, Leighton Burrel then Ethan Girling (Links to Instagram at the end), then the rest of the grid. Team Karting running the show. You're welcome Matty 😉
Heat 1
https://results.alphatiming.co.uk/hootonik/2020/3/s/5355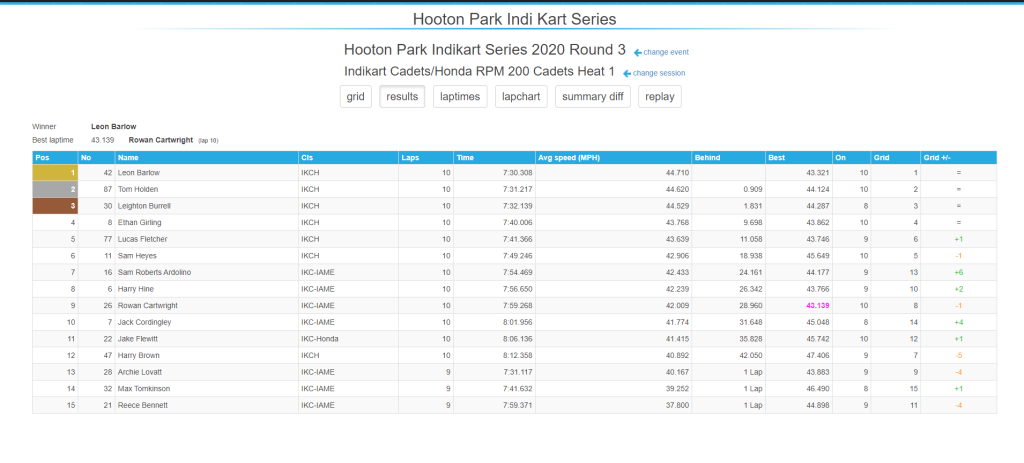 Heat 1, and it was my first time starting on the front row with a rolling start. The first time around I didn't do well as I was too quick over the line, so we had to go around again. This time it worked and we were go.
Before the race, we didn't know what tyres to put on as it had just been raining but the track looked dry, damp in places. Anyway, I and the driver in fourth put on slicks whilst 2nd and 3rd put on intermediates (worn wets). Obviously expecting more rain. Now, as we went out to do the rolling lap it was very slippy it also didn't help that this track is awful in the wet so you can imagine how slippy it was.
Off the start, I was overtaken by the two drivers on wets and in 3 laps they were gone. I was still pushing but as they were on miles gripper times I couldn't stay anywhere near them. for first 3 laps. However, on lap 7 of 10, the track became dry enough for my tyres to gain grip and heat up and I went from being 3 seconds slower over a lap to 1 second quicker this was just enough for me to catch them up and get past them both going onto the final lap. I was so ecstatic it felt like the best drive ever.
Heat 2
https://results.alphatiming.co.uk/hootonik/2020/3/s/5356/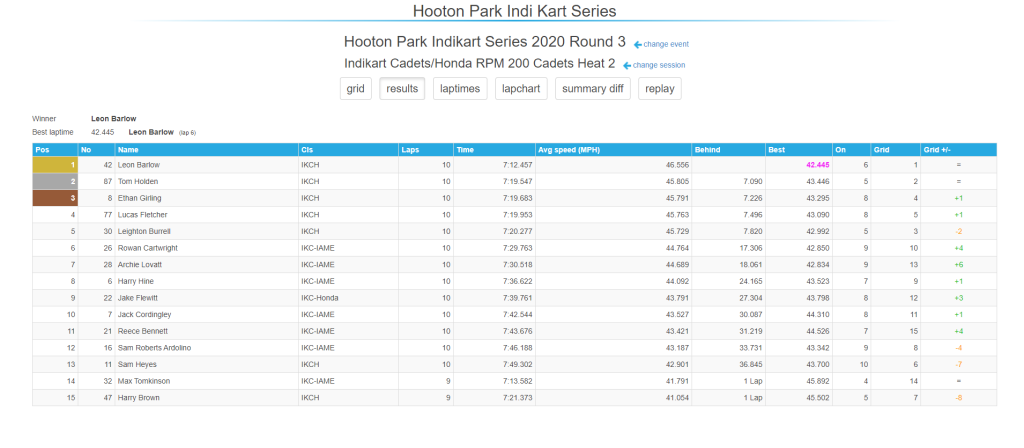 Heat 2, For this race the track had fully dried out and we were all on slicks. This time I had a good start first time around and I got away. Every lap I got farther and farther away with the 4 drivers behind battling all race. Even though it finished 7 seconds ahead the race was quite boring all in all.
Final
https://results.alphatiming.co.uk/hootonik/2020/3/s/5357/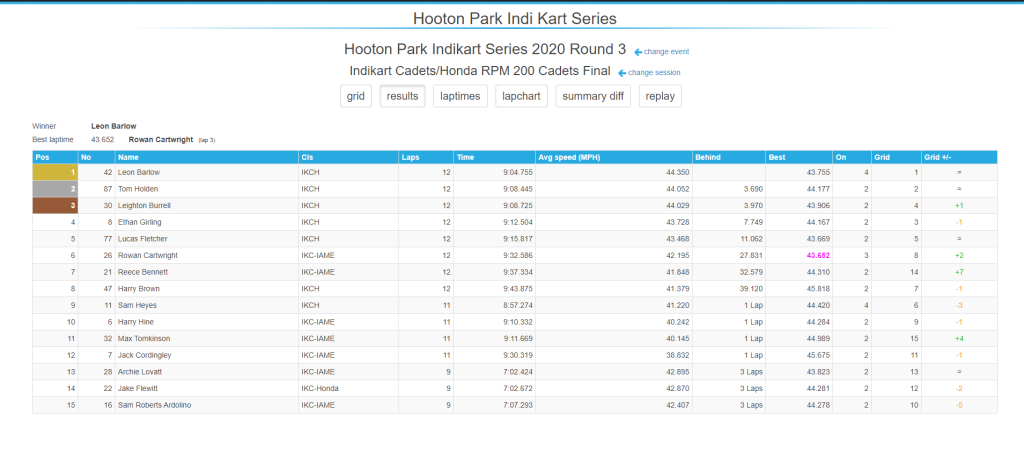 In the final it was damp but this time we were all on slicks, as we thought the track was drying. On the rolling lap alone people were spinning, so we had to go around twice, Into turn 1 I got swarmed as I didn't have a great start so I fell down into second. I and first place were fighting all lap and I was beginning to get nervous as I hadn't actually raced all-day.
Halfway through lap two, the driver I was fighting ran wide on the exit of a corner and fell back into the rest of the pack slowing them down. This allowed me to get farther away. The gap between me and second stayed pretty much the same until the last lap when I started to make mistakes due to the rain now comming in. Luckily I managed to pull it together and win the race.
After the checkered flag, I was so happy that I forgot to break into 1, so I want straight onto the grass. this didn't matter though because I had won my first race in my career!
Mentioned
https://www.instagram.com/egracing8/
https://www.instagram.com/teholden08/
https://www.instagram.com/l.b.racing_30/