After the cancellation of GYG due to Welsh COVID rules, the new round 7 of CKC was now at Shenington. Not many of the other drivers had been to this track before andI was looking forwards to learning the track.
Saturday
On Saturday practice, In the rain, was miles off the pace, (lower half of the grid) only managing a best of 56.9. So I had a lot to do on Sunday. But we had still learned lots, so was feeling confident.
Saturday
Qualifying
In qualifying I wanted to try something different, going out at the front. When on the grid, I got as far to the front possible. However, a few other drivers had already got there. On the out lap, I managed to get past most of them. On my first fast lap, I got a shock 55.73 in the wet. Mid-way through my second fast lap I noticed that the two remaining drivers that were in front of me were slowing me down, so I backed off. I got proved right, as on the lap after I backed off, I got a 55.2. This was the fastest lap that I could manage in the session. As I came into the pits I was expecting 10 or 11 place, however, as I was going over the weighing scales I got told that I HAD POLE, and even better, I had it by 2 tenths!!!
Heat 1
Starting from my first pole position, all that I had to do was stay in position. I got a bad launch but my engine pulled me back, letting me beat 2nd place into turn 1. For the rest of the race, I was just working with 2nd place to try and pull a very small (0.50 seconds) gap to the other karts. However, going onto the last lap we began to fight, this let the other karts to instantly catch back up. 2nd place the overtook me into the last corner, making me finish 2nd.
Heat 2
Starting from where I finished the last heat, in second place, I was looking for the win. Off the line, I stayed in position but into turn 2 I went down the inside and getting into first. On the second lap we both stayed in position, but not managing to pull a gap to the other karts. On lap three, he managed to get back passed me but I re-overtook him on the next lap. On the 5th of 8 laps, 2nd place made a small mistake, therefore, allowing me to pull a small, half a second gap. They couldn't catch me back up so I won by half a second. What a day. My first CKC pole, followed my my first CKC win! I need to carry it through the to the last heat and ultimately, the final!
Heat 3
Starting, once again, in first place, I lead the first 2 laps as 2nd, 3th and 4th place fought for second. However, on lap 3 things changed… 2nd place at the time (who had started 3rd) caught me napping at the first hairpin. I tried to get back past but I couldn't. We then began to work together, pulling a sizable gap. The gap then shrunk straight back down as we began to fight for position. I, once again, left it to the last corner to get past. I tried to get to the inside but there was no room, so I had to got to the outside. This then let 3rd place go up my inside, which was my fault. He then squeezed me onto the kerb, while I was still alongside, making me lose time and overall falling me down to 4th place. Not happy.
Final
Surprising, I was starting in 2nd place for the final. Off the start, I stayed in position, but in turn 2 I fell into 3rd place after running wide. On lap 2 I, stupidly, left the door open at the first hairpin. I was now in 4th place and had a lot to do to get back into position. Over the next few laps, I was pushing. Hard. On the 4th lap, I got up back into 3rd and was about to get back into 2nd, on the 6th lap, when disaster struck. I locked up and ran deep, this allowed 3th and 4th to get passed, and I fell into 5th. I thought that it was all over but I continued pushing. On the succeeding lap, I got back passed the 2 drivers that got passed when I made the mistake and into the last lap I was in third. Slowly gaining, as they were fighting for the lead. Going into the last corner I was right behind. I was debating in my head whether I should go down the inside, possibly risking finishing 3rd, or stay in position. I decided to stay in position, however, luck was on my side. 2nd place sent it down the inside of 1st, the bumped sides and they both ran deep, I was alongside the leader and third place. I just managed to get second…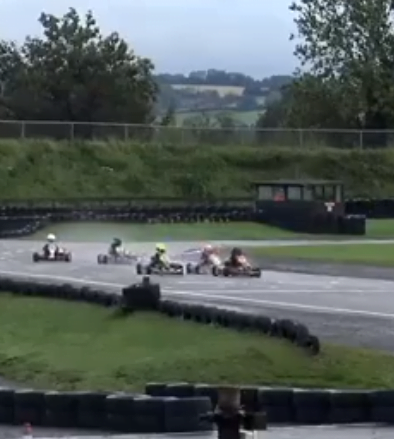 I am really happy with my performance on Sunday, especially considering the tragedy that I had on Saturday. Sooo… Onto the next one 😃😃