Going into this weekend I had only been to GYG once and it was very, very wet, which was helpful to learn which way the track goes but when the whole weekend would be dry and sunny, it meant that I would be pretty much starting from scratch.
Qualifying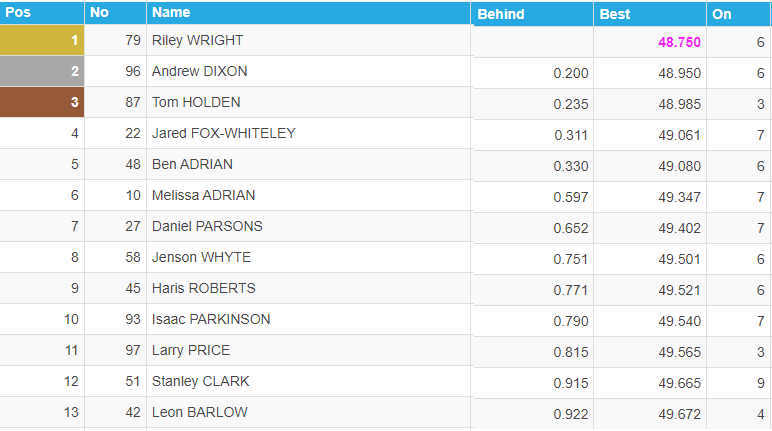 Going into qualifying, I knew that I was about 8 tenths of the predicted pole lap's pace so I wasn't expecting too much. I decided to go out towards the back with a quick driver that was often at the front but as I went out of the pits a few drivers got between myself and the driver that I tried to get behind so I was driving on my own. As I was on my own without the tow (slipstream) of another driver or being able to chase another driver, I qualified 13th. This was a very bad result as I am in a championship battle for 3rd so I needed to maximise my points scoring. However, on the upside, one of my rivals only qualified 9th so I was aiming to beat them. I couldn't understand why I was completely off the pace. I just couldn't put a decent laptime in. I was thinking is was a just a combination of lack of recent driving and the fact that my last two days driving were in my new Rotax powered X-Kart.
On the practice session after qualifying, we decided to try my none-race engine as a test. I got behind another quick driver that had qualified down the order and I managed to get a 48.8. This lap was just under a second quicker than my qualifying lap and would have put me 2nd on the grid for the race tomorrow. Looking at the data from my Alfano laptimer we could see that my race engine just wasnt pulling up the straights like it usually does. We knew my spare engine wasn't as quick as my race engine, but it seems we had no choice but to run it.
Heat 1

Starting 13th, I was aiming to finish In the top 8 as it was a very difficult track to overtake at. I knew I was going to struggle up the hills on this engine, so I just had to be a smooth as possible through the corners to make up the pace. I was on the inside for turn 1 so I gained 2 places and got up into 11th place by the first braking point. From then on I just needed to pounce on other drivers mistakes, especially in the downhill sections through the dragons tail, and gain more places. This is exactly what I did as one by one I overtook the lower half of the top 10 and got up into 8th by the end of the race. Even though I gained 5 places, I still finished behind both championship rivals. With one on 7th and the other finishing 1st.
Heat 2

For the second heat, I was starting 8th and I wanted to finish 5th or higher. This would have sounded wishful before the first heat but considering my pace in that race, I knew that I was quick enough to do it. On the first lap, I initially got past the driver starting in front of me but going up the straight, I got squeezed onto the grass. Placing me back where I started. As I said before, this track was really difficult to overtake at so I needed to pounce on the mistakes of other drivers, and I was confident coming down the hill as other drivers attacked it too fast. I remember that when I drove this track in the wet, my friend Charlie Wyatt showed me the fastest line was actually to go slow on the twisty downhill. Although still braking hard and late.
Coming onto the final lap I was in 7th place and going into the final sector I knew that I needed to hurry up. So I dove to the inside at the final breaking point. I went defensive over that line and… But marshals didn't show us the checkered flag. They had missed the leaders. So on the lap after the final lap, I repeated the same move and got up into p5. (This became my favourite overtaking spot as non of the drivers went defensive there.)
I was really happy with my result until I double-checked the results to see that I had a 5-second front-bumper penalty because I got rear-ended into another driver. This placed me in p9 by the end of the race, 1 place lower than where I started. I was gutted.
Heat 3

For this race, we gambled on changing the sprocket to theoretically give me more top-end speed to make it easier to overtake up the straight. All that I needed to do was try to keep my bottom revs as high as possible. At the start, I held position as a smaller sprocket usually meant a slower start. Towards the end of the lap, the kart in front ran wide allowing me to sneak up the inside and gain a position. On the second lap, I overtook the driver in front at my favourite overtaking opportunity and got into p7. I couldn't keep up with p6, however, as my smaller sprocket slowed me down on the dragons tail (a very slow esses section at the end of the lap). I finished in p7, getting me enough points to start 8th place for the final. Looking at the data to compare the sprocket, it was a bad choice, losing over 1.5 mph up the hills. This engine just didn't have enough torque to pull up the hills.
Final

Starting eighth place, we had put the old sprocket back on so I was aiming for the top five again. Off the start, 7th place starter missed the start and I immediately got past them. Going onto the 5th lap I was in the middle of a train with two other drivers and I could see that 4th place was getting away. So, I got past the leading driver of the train at my favourite overtaking opportunity and began to push forwards towards 4th.
On lap 7 the driver in second places fuel pump fell off forcing him to retire and promoting me into 4th place. Myself and 5th place then began to work together to attempt to catch 3rd place. We were catching them but at too slow of a pace to overtake him. We closed a 1.5-second gap to a 0.3-second gap at the end of the final lap.
Considering we were running on our none-race engine, qualifying 13th and receiving an very unlucky 5 second penalty, 4th place wasn't a bad result.
Thanks to everyone that came to support me and well done to all the other drivers this weekend for not causing any red flags. Onto the next one.